Honey Garlic Beef Jerky
The perfect food for hiking - lots of protein, packed with flavor, and easy to carry. And the added salt is good for electrolyte balance.
I never was a fan of jerky because I don't like smoked-flavored food (especially if it's fake "liquid smoke"). I'm also not thrilled with a strong soy sauce flavored jerky.  
This recipe solves all those problems with a simple marinade of honey, garlic, ginger and salt. Then you get a huge flavor boost by adding Mountain Meadow Beef Bone Broth to the mix. No need for fake flavoring when you've got the real thing.  
I recently took a 12-day backpacking trip into the Bob Marshall Wilderness and had lots of this jerky with me.
I ate a little bit each day to keep my protein and salt intake high.
Added bonus - it weighs almost nothing and has a big and satisfying flavor.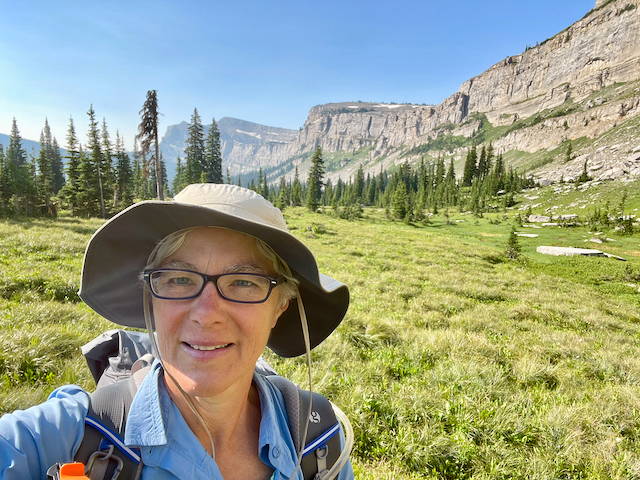 Garlic Honey Beef Jerky
A simple and tasty marinade for jerky. It's the perfect snack food for hiking - chewy, full of protein, a little salt, and lots of flavor. Store in the fridge or freezer for longer keeping.
Prep time: 5 Min
Cook time: 15 Min
inactive time: 34 Hour
Total time: 34 H & 20 M
Instructions
Put honey, garlic and ginger in a small saucepan and heat to boil.  Immediately turn to simmer and add salt and Mountain Meadow Bone Broth.  Stir to dissolve salt.  Simmer for 15 minutes.
Let marinade cool.  Place the cooled marinade in a large zip lock bag.  with the sliced beef.  Mix to be sure all the beef is covered in marinade.  Place in refrigerator for 8 to 24 hours.
Place the marinated strips of beef on dehydrator trays.  Dehydrate at 160 degrees for 8 to 10 hours.  Jerky will be completely dry but bendy when it is done.
Place dried jerky in a 275 degree preheated oven for 10 minutes.  
Notes:
For the tenderest (and chewy) jerky, use a lean cut of beef - top round, bottom round, flank steak, London broil, or shoulder roast works very well. Cut into 1/4 inch thick slices. Try to make them as even as possible and remove all excess fat.
I have always used the method of heating the finished jerky in an oven to kill any pathogens. However, as of September 2020, the USDA recommends that raw, marinated meat be heated to 160 BEFORE dehydrating to kill off any food borne pathogens. For more info: https://ask.usda.gov/s/article/How-do-I-dry-jerky.
Did you make this recipe?