Late autumn in western Montana means chilly weather for hiking, especially when the wind sweeps across the open hillsides. That's why I love to have a thermos of something hot and yummy. Sometimes, it's just bone broth, other times tea or soup.
A few weeks ago, I decided to take a hike up the Jocko, on the Flathead Indian Reservation and ended up in an area that had been logged. The views were spectacular but the wind was brisk. Lucky for me I had a thermos of Creamy Tomato Soup.
I didn't have a gooey grilled cheese sandwich with me, but the soup was still comforting and satisfying.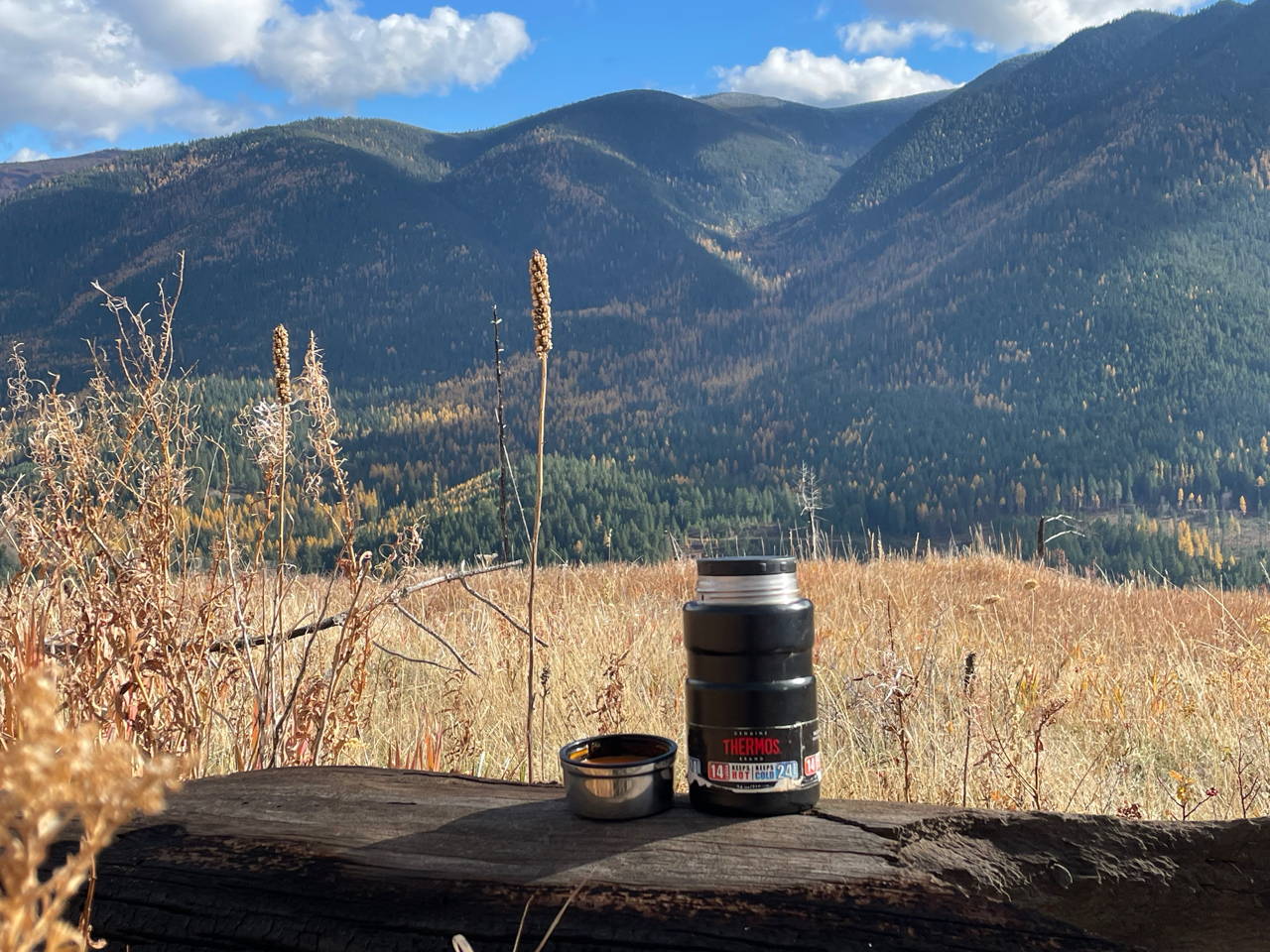 What Type of Tomatoes to Use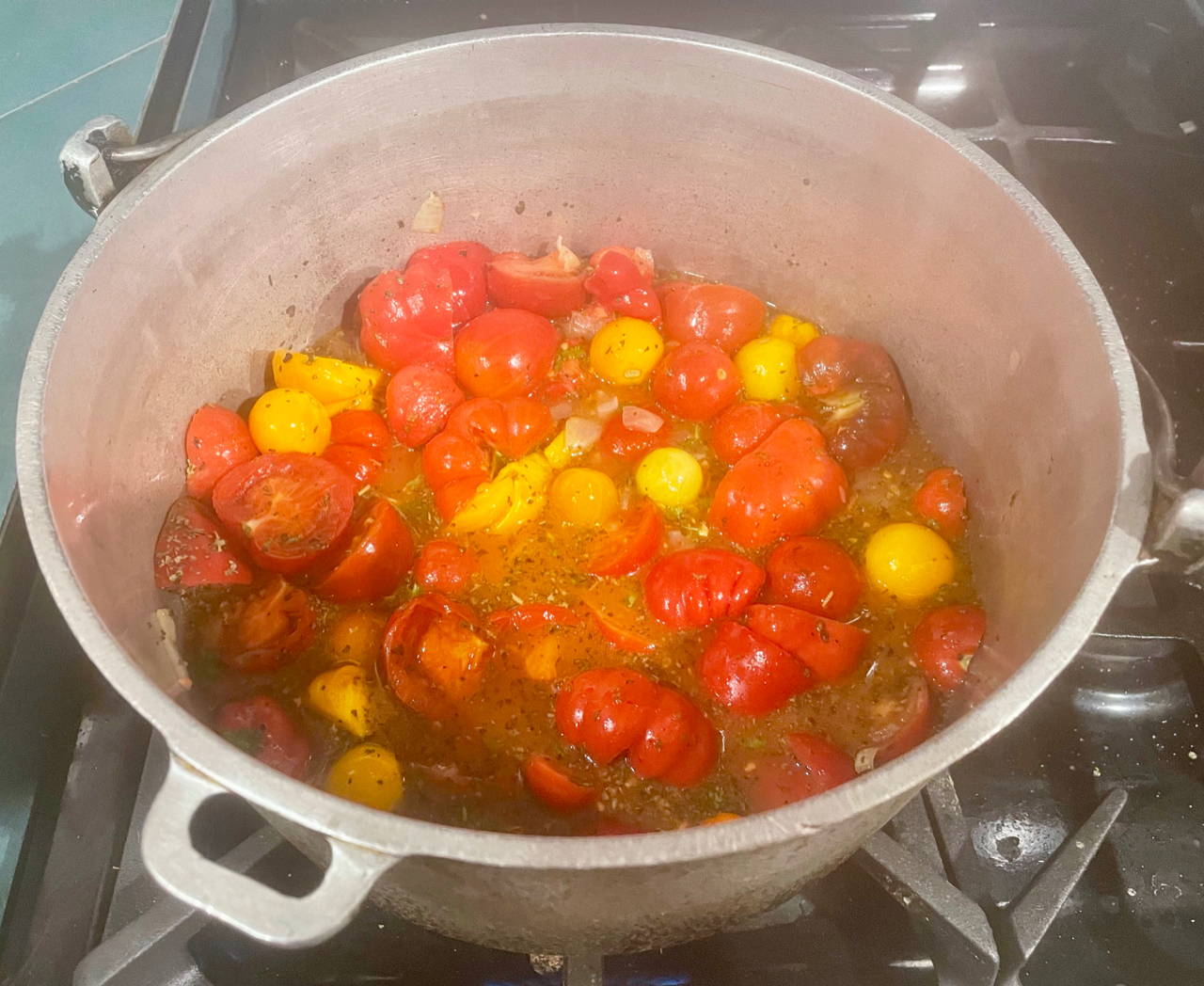 I had a some heirloom tomatoes from our garden that needed to be used. They gave my final soup a lovely orange-ish color. You can use any tomatoes you have - fresh or canned. This recipe is quick to make and so easy because you probably have all the ingredients right now.

Confused About How to Use Bone Broth?
Get Ideas delivered directly to your inbox
Y
Creamy Tomato Soup
Prep time: 5 Hour
Cook time: 30 Hour
Total time: 35 Hour
Nothing says warm and cozy like Creamy Tomato Soup, especially when served with a gooey grilled cheese sandwich.
Instructions
Melt butter in a medium stock pot over medium heat. Add onions and cook for 5 - 6 minutes. Add garlic, stir and cook for another minute.
Add tomatoes and Mountain Meadow Chicken Bone Broth. Season with salt and pepper. Bring to a boil and then lower heat. Simmer for 10 minutes.
Puree soup either with an immersion blender or a regular blender.
Pour the soup into a mesh strainer over a bowl. Use a spoon to push the soup through the strainer. Discard the tomato pulp and return soup to pot.
Put 1/2 cup of hot soup into a 2 cup measuring cup (or small bowl). Slowly add the half & half (or cream or milk) to the hot soup, stirring continuously. Add the mixture to the pot and stir.
Stir in 1/2 cup parmesan cheese. Adjust salt and pepper to taste.
Use the remaining parmesan cheese as a garnish when serving in bowls.
Notes:
Tomatoes: I used the last of the heirloom tomatoes we grew in our garden, but you can use any tomatoes you have on hand. If you use peeled in a can, there will be much less pulp when you strain it.
Dairy: I use half & half because we usually have it on hand. Feel free to use milk or heavy cream. If you don't want a creamy soup, you can omit the dairy altogether. I've not tried this recipe with plant-based milks, but it should be fine.
Make it a Meal: You can get the grilled cheese sandwiches set up while the soup is simmering. Then, after you've finished the soup completely, keep it on very low heat and make the sandwiches. I find that grilled cheese goes from perfect to burnt in no time, so I prefer not to multi-task while I'm making them.
Nutrition Facts
Sodium (milligrams)
466.25
Since Mountain Meadow Bone Broth has no sodium, this recipe is 163 mg lower in sodium than a recipe made with shelf-stable broth from a box or can.
tomato soup, soup, bone broth, chicken bone broth
lunch, dinner, soup
American
Did you make this recipe?
.
To Make Creamy Tomato Soup